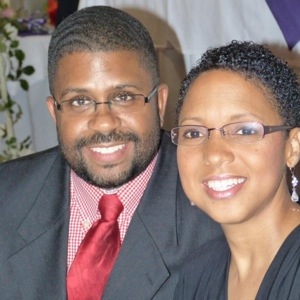 This episode is dedicated to my late wife, Dr. Monica Mouton Sanders. She passed away Feb. 13,2014 @ 4:10 P.M. from cancer at 39 years of age.  We have four daughters all under the age of 9.  I got through this show but it was tough! Please pray for us!!!
Obituary:
Monica was born on May 4, 1974, to the delight of her parents Curley and Earline Mouton, in New
Iberia, Louisiana. Her early years were nurtured by a loving immediate family and a closely knitted
extended family.  Her education began at St. Edward Elementary School and continued at Mt. Carmel
School for  Girls through eighth grade.  She graduated from New Iberia Senior High School in May of
1992.
She entered Xavier  University in the fall of 1992 and majored in psychology.
During her years  at Xavier, she interned at several  universities  including Purdue University and
Michigan State University.  After graduating from Xavier in 1996, Monica began a doctoral program at
Michigan State in the Department of Family and Child Ecology with specialization in Marriage and Family
Therapy.  She received her doctoral degree in May of 2005.  While at Michigan State,  she received the
award for outstanding student leadership at the Annual Educational Conference of the Michigan
Association of Marriage and Family Therapists. In 2004, she received  the John  McAdoo Award  from
The National Council on Family Relationships  for the research done for her dissertation which focused
on help-seeking options among middle-class African-Americans.  Monica was a contributing writer in a
publication authored by Dr. Harriette Pipes McAdoo entitled Black Families. 
It was at Xavier that she met a young  Detroiter  named Hubert Sanders who became the love of her life.
(He offered her a pencil one night at the library which was the start of a beautiful twenty-year journey
together.)  Monica  and Hubert  were married  June 26, 1999 at St. Edward Catholic Church in New Iberia
LA.  To this union were born four beautiful girls, Gabrielle Elise, Rhea Noelle, Michelle Marian, and Nylah
Anlaurelle.  Another child was conceived but miscarried, whom she now joins among the angels in
Heaven.
Monica's spiritual life was nurtured at an early age at both St. Edward Catholic Church and Mt. Zion
Baptist  Church where she attended  regularly with her mother.  Her faith walk intensified during
graduate school as she and Hubert began to seek God's purpose for their lives together.  Her quest
for a closer walk with God led to a spiritual path that included regular retreats and daily mass.  In
addition to attending mass at her home parish,  she attended other local parishes where she
encountered  many spiritual partners, some of whom became an integral part of her life and her
family.
Monica's work experience included a position as therapeutic clinician for the Lutheran Social Service,
adjunct instructor at the University of Michigan, and instructor for Phoenix  University and Capella
University.  Monica's work experience was interrupted in November of 2011 with a diagnosis of breast
cancer. During these two years, she worked hard to change her life style( diet, personal habits, etc.) to
more life-sustaining choices.  Her most rewarding work was her last "job,"  homeschooling Gabrielle (3rd
grade), Rhea(1st grade), and preparing Michelle to enter Pre-K in the fall, a labor of love from which she
never tired…until cancer reared its ugly  head one last time.
Now, left to cherish the beautiful  memories of her life and to continue her legacy of "living for Christ" are:  her husband (and best friend) Hubert; her four beautiful girls:
Gabrielle Elise, Rhea Noelle, Michelle Marian, and Nylah Anlaurelle;  parents Curley and Earline Mouton; one brother Shawn (Yvonne); mother and father in-law Reverend
Deacon Hubert and Wanda Sanders; one sister-in-law Kimberly(special friend Trey Graddy); three nephews, Brandon Mouton, Jayden Mouton, and Devin Mouton; one
niece, Laila Janae Mouton; dear cousins who inspired her and help mold her life into the beautiful person that she became; and a host of dear friends and acquaintances who
touched her life with so many acts of love.  Monica left this life with a heart filled with love and gratitude for the many  "angels of love" that appeared at her door every day.






by